Following our attendance at the HIMSS23 healthcare summit, it was inevitable to discuss the connection between digital transformation in healthcare and Niagara Networks' visibility solutions. It's a fact that the healthcare industry is rapidly shifting towards digitization, with the rise of electronic health records, telemedicine, and other digital technologies completely transforming healthcare delivery. A report by Grand View Research states that the global healthcare IT market is expected to reach USD 609.1 billion by 2030, with a compound annual growth rate of 17.9% from 2023 to 2030.
During the summit, there was a lot of talk about the Modern Data Platform (MDP), which is a term used to describe the technologies and tools that enable the collection, processing, and analysis of data. In healthcare, modern data platforms are essential for storing and managing electronic health records, medical images, and other health-related data to achieve a patient-centered vision throughout the entire healthcare ecosystem. The future of healthcare will be highly focused on the patient, and as per McKinsey & Company's report, the implementation of modern IT processes across the healthcare ecosystem and electronic health records can reduce medication errors by up to 80% and improve patient outcomes by up to 30%. The diagram below illustrates the significant advantages of modern data platforms in the healthcare industry, as highlighted by McKinsey & Company: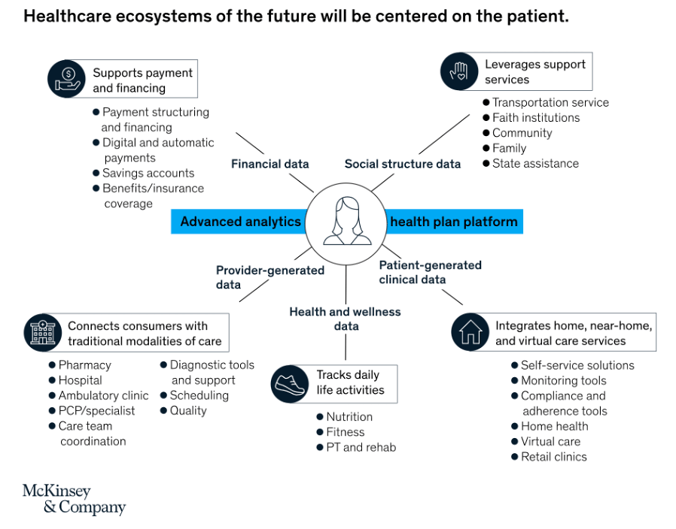 As the healthcare industry undergoes a digital transformation, modern data platforms are playing a crucial role in collecting and analyzing data from diverse sources such as electronic health records, wearables, and medical devices. But how does this relate to network visibility? Well, one of the keyways modern data platforms are revolutionizing healthcare is through the implementation of network visibility solutions across the entire digital infrastructure.
For IT teams in healthcare organizations, having visibility into their networks is critical to ensure smooth operations and detect potential security threats across the highly sensitive data and technology stack. Given the complex and mission-critical nature of healthcare operations, even minor issues can have catastrophic consequences. This makes it challenging to detect cyber threats, troubleshoot problems, and optimize performance in real time. This is where network visibility comes in - it refers to the ability to monitor and analyze network traffic across all OSI layers, giving IT teams a comprehensive understanding of how data is moving across the network and enabling them to identify and resolve issues in real-time. In the healthcare industry, network visibility is becoming increasingly important as it allows for streamlined IT operations, helps detect abnormal conditions, and ultimately improves healthcare digitization with a focus on patient-centered ecosystems of the future.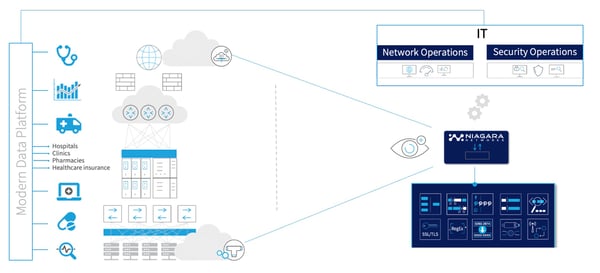 Below are some of the significant advantages of incorporating network visibility into IT healthcare and modern data platform architecture:
Improved Network Performance: Real-time visibility into network traffic helps IT teams quickly identify and troubleshoot performance issues like congestion, latency, and packet loss. This ensures healthcare applications and services are available and responsive, which is crucial in the era of IoT and an all-digital healthcare infrastructure.
Enhanced Security: Network visibility helps IT teams identify and analyze potential security threats like malware, ransomware, and phishing attacks. Complete visibility into East-West and North-South data flows can gather network intelligence, prevent data breaches, and protect sensitive patient information.
Better Data Management: Network visibility enables IT teams to optimize the flow of data across the network and the NOC/SOC tools. By identifying and prioritizing data to the right tool and with the right data feeds, overutilization can be avoided, and performance optimization and accurate security inspections can help avoid false positive alarms.
Improved Patient Care: Real-time visibility into network traffic improves the delivery of care to patients by identifying and troubleshooting issues with critical healthcare applications. This ensures that patient data is always available and accessible across all geographical locations.
Cost Savings: Network visibility helps healthcare organizations save costs by identifying inefficiencies in the network and optimizing resource utilization. By improving the overall performance and security of the network and the NOC/SOC tools, healthcare providers can also reduce the risk of costly downtime and wasted capital by allocating the optimized IT resources.
In summary, integrating network visibility into IT healthcare and modern data platform architecture offers numerous advantages, including improved network performance, enhanced security, better data management, improved patient care, and cost savings. By leveraging network visibility solutions, healthcare organizations can ensure optimal network performance, delivering high-quality care to patients. Niagara Networks' visibility solutions have been successfully deployed in numerous major healthcare organizations across the United States, providing comprehensive visibility across all digital assets. Niagara Networks is committed to supporting healthcare modernization by facilitating efficient packet data delivery to security and network operations teams, empowering healthcare organizations to embrace modern data platforms and adapt to the evolving digital healthcare landscape. Ultimately, this enables healthcare ecosystems of the future to revolve around the patient.
Don't leave your network vulnerable to security threats, schedule a consultation with one of our network visibility experts today to evaluate your network visibility challenges.