Netnod Meeting March 2018 has just wrapped up!
Netnod Meeting is a conference hosted by Netnod: A neutral, independent Internet infrastructure organisation based in Sweden, providing critical infrastructure support, ranging from DNS services and root server operations to Internet exchange points (IXPs). The latest Netnod Meeting took place between the 14th and 15th of March 2018 at the Sheraton Stockholm Hotel
Netnod Meeting March 2018
Niagara Networks was honored to be a sponsor of the Netnod Meeting March 2018, which ran for two days and covered various topics including:
How digitalization and cloud is forming new demands for connectivity and hyperconnected data centers

Sigfox

Trends in IoT DDoS botnets and what can be done to solve the issue

Network visibility in datacenter and provider networks
Readers who are interested in the complete programme and subjects that were discussed can access it here.
Our Involvement at Netnod
Niagara Networks is a global network visibility solutions provider that offers a variety of solutions to enhance your visibility of traffic flowing through your network or data center. These network solutions include active and passive taps, Network Packet Brokers (NPBs), Network Bypasses and network management tools that allow you to improve control of the visibility layer.
Niagara's portfolio includes solutions for segment protection, based on fail-safe bypass combined with 'heartbeat initiated packets' used for identifying tool failure and improving the availability of your network.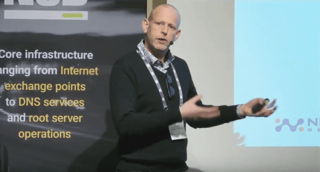 As part of Netnod Meeting March 2018, André Vink — Senior Sales Engineer EMEA and India for Niagara Networks — delivered a session exploring "Network Visibility in Datacenter and Provider Networks". In the session, André walked through the basics of how to gain pervasive visibility in your network. André's presentation also highlighted how SDN functionality within the visibility management layer can facilitate flexible allocation of resources and allow optimized utilization of security tools. In addition, André demonstrated how Niagara Networks' visibility devices can be further enhanced using Niagara Networks Packetron module, which uses hardware accelerated packet processing. This allows the visibility nodes (especially the bypasses and the packet brokers) to perform extra manipulations on the data flow.
For example: It can handle deduplication, packet slicing and netflow generation and aggregation. Allowing your visibility devices to perform such functions allows better utilization of the capacity of security tools that are more "real-time savvy".
To get in touch with Niagara Networks and find out more about what we learned at Netnod Meeting March 2018, or if you are interesting in finding out more about Niagara Networks and our networking solutions, be sure to contact us today for a free consultation. Additionally, we have a white paper on Maintaining Network Visibility While Expanding a Data Center to help you eliminate any blind spots in your network.
The Netnod Meeting is a conference for various Internet technology organisations and businesses to gather and discuss the latest Internet and Internet networking technologies developments. The first Netnod Meeting started in 2009, and focused around topics including IPv6, Signing of the DNS root and Internet governance and IT policy. Since then there have been 29 Netnod Meetings.