Recently, we attended CableLabs Winter Conference at Rosen Shingle Creek Resort in Orlando, FL. The event was flowing with Cable Operators, CableLabs' employees, and vendors (like us). It was a great chance for the operators to come together and discuss innovations in the cable space, as well as to network with fellow peers. Additionally, the conference was packed with exciting and thought provoking content. Speeches included the keynote speech by Phil McKinney (CEO of CableLabs), the Dark Web themed panel,, as well as "A conversation with Michael Powell" by the CEO of NCTA.

First off, the weather was amazing with highs of 78 and sunny, and the venue was immense and beautiful, like something out of Las Vegas. The food was top-notch, and if I had to pick, my favorite was the Swordfish we had for lunch on Tuesday. The show was attended by roughly 300 people. Many major vendors were represented including Cisco, Fortinet, Perftech, Sandvine.
I had the chance to sit through a number of the talks and here were my highlights:
Phil McKinney, CEO CableLabs

Phil had many interesting insights that he shared with the members. First off, they are canceling the Winter Conference for next year and replacing it with their Inform(Ed) format, which will be located in Lisbon, Portugal next April. This is an attempt to meet the needs of their growing international membership. The most interesting part of his speech was centered around Coherent Optics, which will give Cable Operators the ability to utilize their existing infrastructure to achieve speeds of 2000 Gbps now, and possibly reach 50000 Gbps in the future.

Craig Moffett, Sr. Research Analyst, MoffettNathanson Research

To listen to Craig speak about the industry is amazing. He is the forefront analyst for the Telecom and Cable Industry and his insights were world-class. There were a number of topics that he covered, but one major theme, was that cable is taking back video market share. This has to do with the failed attempts by AT&T and Verizon at U-verse and Fios, respectively.

The second was around what are the next deals we will see happen. Everyone is expecting Verizon to make a big deal with either Cable or Media, but according to Craig, they don't have the balance sheet to be able to pull it off. Check out his chart (below) of possible acquisitions across the 3 industries.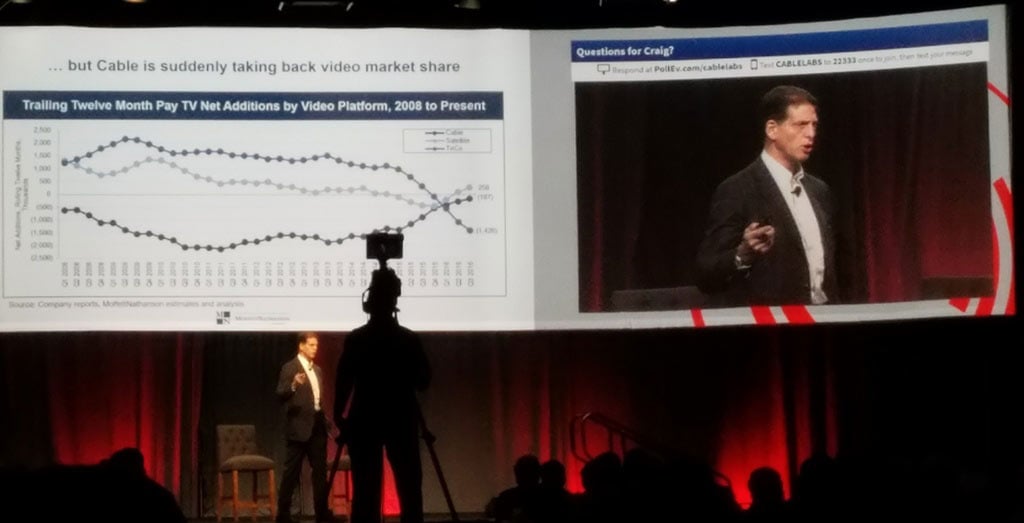 All in all, this conference was a great way for us to learn about Cable industry trends, catch up with current customers, and connect with other cable operators. Check out more photos from the event on Facebook.